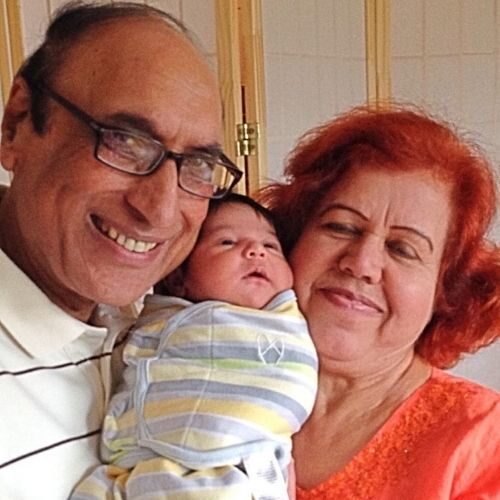 Jagdish's Legacy Lives On
We are kicking off the New Year right with a very special Favorite Friend Friday highlighting a selfless donor and his family.
Jagdish Narula was a family man who put everyone else's needs before his own.  After graduating from a prestigious engineering university in India, he moved to the US, joined shortly thereafter by his wife, Sushma, and their three young daughters.
"Even long after Jagdish left India, he helped many families back home," his wife Sushma explains. "Two of my brothers passed away when their children were young. My husband supported them with their education and other needs. He also helped a family of 6 to purchase a home so they could move to a safer neighborhood."
Jagdish was a nuclear power plant structural engineer who was devoted to his job and worked until the day he passed away. He raised his three daughters to believe they could do absolutely anything they set their minds to; all three grew up to be successful physicians.
"Jagdish and I were truly soulmates. We were like two bodies with one shared soul. All our friends used to tease us because we were never apart, always inseparable. When Jagdish left for his heavenly abode, my heart was shattered, but with the grace of God, I was able to think about other people's suffering and decided to share Jagdish's love through organ donation," Sushma recalls.
"I come from a family of giving.  In 1988, my maternal uncle passed away in India. My older sister persuaded my mother to donate his corneas, in spite of resistance from the other family members. My family back home and our three daughters in America all advocate for organ and tissue donation."
Sushma is well aware of the many myths surrounding organ donation and believes in dispelling these myths through knowledge. She raises awareness about the importance of organ donation and advocates for people to register as organ and tissue donors. If you would  give back during your life, why wouldn't you continue once you are gone?
Through Jagdish's donation of his corneas and bones, the lives of 163 people have been improved. Two people have been given the gift of sight with his corneas, and 161 people have been recipients of his bones, allowing them to have life changing surgeries such as dental implants and orthopedic surgeries.
"The recipients are blessed to have a part of Jagdish with them, a piece of the most intelligent, caring, selfless and kind man, who believed in justice, equality and love for all. They are truly blessed. His love has been spread to many and his legacy will be carried on by future generations of our family."