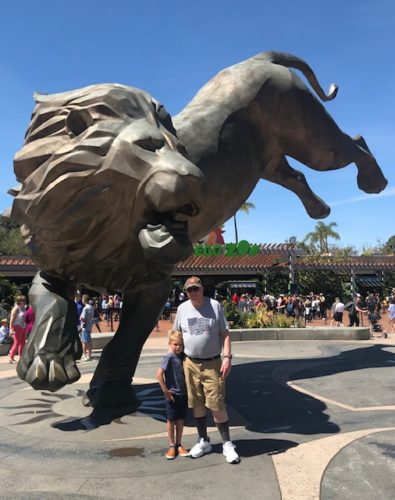 This week's Favorite Friend is 1st VDG Art Pecht, a member of The Honey Brook Lions Club for the past 18 years, and a huge supporter of Lions Eye Bank. If you have ever attended any LEBDV events, then you have definitely seen or met Art, as he is always the first one there to set up, help out, or work the grill. Art was drawn to the Lions Club initially because he was motivated to give his time and energy to others. Almost two decades later, and he is still doing just that!
Prior to his Lion days, Art and his wife owned and worked at Conrad's Deli in York, PA; and up until very recently he was the Receiving Manager at Target in Exton, PA. Just because Art is retired however, in no way means he is slowing down. In fact, it is quite the opposite. "I feel the way the world is, in today's situation, we should try to leave it in a better place than when we found it," Art says. "That's what I'm trying to do. I'm retired, so I'm able to give my time and energy to giving back." Not only does Art help with so many LEBDV events, through his Lions Club he is also involved with the local Fire and Police Departments, Food Pantries, and so much more.
"To me, the most motivating part of the work we do is when we see someone who has actually benefited from something we helped them with." Continuing on the topic of his motivation to do the work he does, Art goes back to the early days of Lions Clubs. "Helen Keller challenged us to be knights of the blind. It is so important. Helping people see through corneal transplants, it is an extremely important aspect of what we do." A specific story that comes to mind for Art is when he and his Lions Club helped a woman pay for her cataract surgery. "She was having a special type of cataract surgery where she needed an additional implant, and it was very expensive. She didn't have the means to pay for it so our club raised the money for her. She was so elated, and has now come out to help with White Cane, our fundraiser that happens twice a year!"
In addition to the big impact he makes on people's lives, Art loves the Lion community. "No matter where you go when you're a Lion, there is an amazing camaraderie and fellowship." Some of his favorite annual LEBDV events are the Gift of Sight Charity Golf Classic, and Gift of Life's Donor Dash that we always support.
When Art is not helping LEBDV, the Honey Brook Fire Police Department, or local Food Pantries, he enjoys working woodworking and spending time with his wife, 5 children, and 2 grandchildren.
This is just a small sampling of all the amazing things Art Pecht has done during his time as a Lion. Thank you so much for all of your help and hard work Art; we cannot wait to see what else you do!