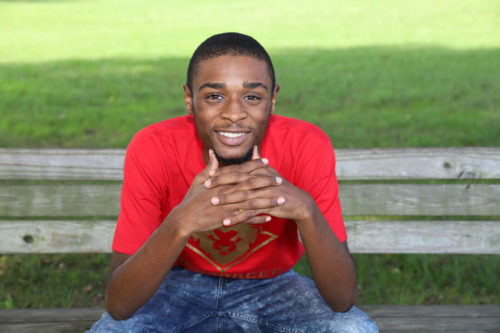 This week's Favorite Friend Friday is most definitely a face that you have seen before. A corneal transplant recipient, Delaware native, and national ambassador for Eye Donation Month, it only seemed appropriate to feature Cameron Whittle once again as today marks the official start of National Eye Donation Month.
 National Eye Donation Month, proclaimed by President Ronald Reagan in 1983, is used by the Eye Bank Association of America as an opportunity to educate the public about the importance of registering to be a donor, about cornea donation and transplantation, and to acknowledge the important work of eye banks. This year's campaign is centered around the theme, "The Power of You," which acknowledges the entire community of people who are involved in the journey of sight restoration. The campaign demonstrates the "power" that individuals have in building hope, restoring sight and changing lives, including healthcare professionals and partners, researchers, eye bank staff, corneal surgeons, recipients and donor families, and YOU.
Throughout the month of November, we will be featuring stories of recipients, donor families, eye bank staff, surgeons, and other individuals who play a crucial role in the eye donation process. Make sure you are following us on Facebook (Lions Eye Bank of Delaware Valley) and Instagram (@lionseyebankdelawarevalley) to keep up with all National Eye Donation Month has to offer! Follow along with the official hashtags of Eye Donation Month as well, #eyedonationmonth, #eyedonationmonth2019.
Cameron Whittle began experiencing visual difficulties including, photosensitivity, eye irritation, drainage and swelling at the early age of three. At age 13, Cameron was diagnosed with keratoconus. His initial treatment for this was wearing eyeglasses to correct his sight followed by special contacts. Keratoconus is a disease that affects the cornea, which is the clear, dome-shaped tissue covering the front of the eye. It results when the cornea's dome bulges outward into the shape of a cone.  Over the course of time, the disease led to vision loss and corneal tissue scarring. In June of 2014, Cameron had his corneal transplant surgery and regained vision in his left eye.
He is now in his junior year at Goldey-Beacom College in Wilmington, DE. Cameron believes in paying it forward and honors his cornea donor by volunteering at Lions Eye Bank of Delaware Valley and being an advocate for cornea donation. During the 2016 Transplant Games of America held in Cleveland, OH, Cameron took first place in the 1,500 meter race! He will most likely be back for more at the 2020 Transplant Games this summer in the Meadowlands, NJ.
Cameron and his family express eternal gratitude to the donor who made the selfless decision to donate their cornea. "Being a cornea and organ donor is so important. My donor now lives on through me," Cameron says. He will be honoring his donor and their family, along with many others at the Delaware Life & Legacy Celebration on Sunday, November 10. In 2016 Cameron wrote to his donor family saying:
Dear Donor Family,
The past two years have been such a wonderful and grateful experience. Your loved one gave me sight again and that's one of the greatest things on earth. I have my license and can drive now. It is my senior year at Newark Charter High School. Without the help of your loved one, I wouldn't be able to have a license, car, complete high school and now be going to college.
Sincerely, Cameron
Thank you Cameron for all that you do to support LEBDV and our mission to restore sight in the Delaware Valley; we don't know what we'd do without you!