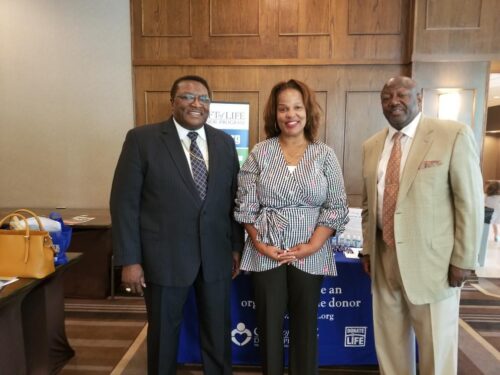 This week for Favorite Friend Friday we will be highlighting Gift of Life's Multicultural Outreach Coordinator, Leslie Jean-Mary. For the past six years Leslie has helped to provide education and awareness around organ, eye and tissue donation and transplantation.
Forming partner relations is in Leslie's blood. Prior to coming on board with Gift of Life, she was the Family and Community Relations Partnership Manager at Camden County Head Start Program. When she saw the posting for Gift of Life's Multicultural Outreach Coordinator, it was a no-brainer. "The whole idea of outreach" Leslie explains, "is to connect with partners that can help us reach the masses."
With National Minority Donor Awareness Month (NMDAM) kicking off this coming weekend, we were eager to connect with Leslie to learn more about her role in connecting with minority groups in the community. NMDAM, founded in 1996, used to just be one day of awareness, but eventually transitioned to a week-long event, and now 2020 is the first year that the entire month of August will be dedicated to this cause. NMDAM is a collaborative initiative of the National Organ, Eye and Tissue Donation Multicultural Action Group. Its goal is to save and improve the quality of life of diverse communities by creating a positive culture for organ, eye and tissue donation.
The three main goals of this month are to:
Provide education about organ, eye and tissue donation and transplantation
Encourage donor registration and family conversations about donation
Promote healthy living and disease prevention to decrease the need for transplantation
"All demographics usually have the same three false beliefs or myths when it comes to donation," Leslie explains. "People feel as though if they are registered as donors, the medical community will not save them, or that it's against their religion, or that they are too sick or old to be a donor. All of this is simply not true." Leslie's job is to get in front of communities, at their places of worship, school, or community health centers. "Historically, the leader of your house of faith acts as your counselor. So, if we can conduct presentations during service or a special event, and communities can see their leader supporting donation, it's incredibly impactful."
Leslie finds that the most impactful part of an outreach presentation or event are the real-life first-hand stories relayed by recipients and donor families. "That's when it really starts to click for people," she says. "It's so important to provide the education and the opportunity for people to ask questions. You'd be surprised how many people will stand up in an audience and say, 'I'm a kidney recipient,' I received a heart transplant,' 'I donated my loved one's organs.'"
 For Leslie, the cherry on top of an awesome presentation or event is when people come up at the end to sign up to be a donor on the spot.
The month of August will be filled with some in-person and lots of virtual community events for National Minority Donor Awareness Month. Thanks to Leslie, we will be sharing the links to various FB Lives, podcasts, and virtual town halls that she has helped to facilitate. We cannot wait to help advocate and support next month, and all year long.