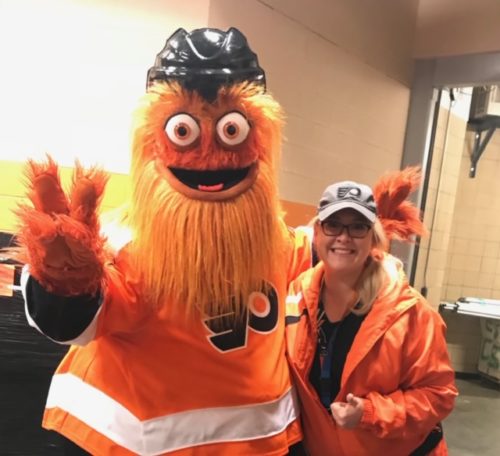 For this week's Favorite Friend Friday we would like to present to you one of LEBDV's very own, Melissa Williams. Melissa has been with LEBDV for four years this month (Happy Anniversary!) "It's very easy to remember my start date," she says, "because it was the same time the Pope came to town!" Melissa is our Manager of Compliance and Regulatory Affairs. A crucial part of her job is double and triple checking all of the donor information to make sure the tissue that has been distributed is suitable.
Prior to joining LEBDV Melissa worked at a different Lions Eye Bank in Pennsylvania. During her time at this Eye Bank Melissa tried out a lot of different roles. "Recovery Specialist, Lab Tech, Distribution Coordinator, you name it, I did it" she recalls. With a degree in Neuroscience and an EMT background, starting out as an eye technician was a natural first step for her.
When asked about how she wound up working here for Lions Eye Bank of Delaware Valley, she recounts how her job as a Distribution Coordinator put her in touch regularly with us. "I would call up LEBDV and talk to Laurice, the tech secretary to see if they needed any cornea tissue that day. She was always so sweet to me on the phone, and when I found out there was an opening in the QA department, it just made sense."
The driving force behind Melissa and her work is LEBDV's mission of sight restoration. "The fact that we have a hand in helping people restore their lives by restoring their vision is pretty amazing," she explains. "I love the fact that we don't let a person's financial needs be a deterrent to their sight. Our gratis tissue program is really incredible." Melissa's Aunt passed away two weeks into her first job as an eye technician. She was an organ donor. This really brought things full circle for her, and made the work that she does very personal and real.
One of Melissa's favorite events at the Eye Bank is the annual Recipient Luncheon. "It's so impactful having everyone together whose lives have been changed by the work we do. And all the kids who come are adorable!"
When Melissa is not busy working and attending Eye Bank events, you can find her doing anything Broadway, Disney, or Harry Potter related. She also loves rooting on her Flyers, singing in her church choral group, and spending time with family.
Thank you for all you do for us Melissa!