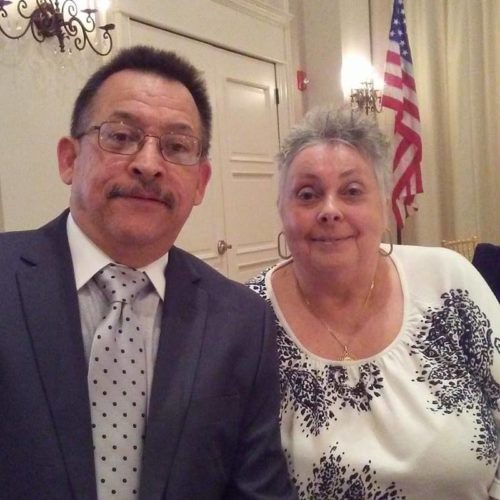 For our next Favorite Friend Friday, we would like to introduce you to Michael and Kathleen Cruz. We first connected with Mr. Cruz when he reached out to his donor families with a letter of gratitude. Then, a few weeks ago the Cruzes came across Carly's transplant story that was shared. Michael told us, "as a recipient I can tell you first hand that I am overwhelmed with gratitude to my donor's family. I have been blessed with gifts from two great families. I can't thank them enough for my sight. I can now see my garden, the flowers in my yard. I am truly grateful." And we knew we had to learn more. This is Michael Cruz's story, as told by his wife Kathleen:
Our story started around 4 years ago. Michael went in for his year eye exam. Our regular doctor detected something wrong with the cornea in both of his eyes, and referred us to a specialist. Lots of tests and visits later, things just kept getting worse. One day we were going down the shore when Michael said he had clouds in his eyes. Of course he did not tell me this until later.
My husband just retired from his role as a shipping supervisor for a glass company for 41 years. When his eye problems began, it was especially hard since most of his work was on the computer.
We made another appointment with the specialist, and were sent to Wills Eye. Immediately after this appointment, Michael was scheduled for cornea transplant surgery on his worse eye. We were scared, to say the least.
His first surgery was performed last November. It was an extremely long recovery. There was a lot of lying down, a lot of doing nothing, a lot of drops, and weekly appointments.
His second surgery was this past April, which was sooner than planned, but his condition was worsening. We felt much better this time, because we knew what to expect.
My husband loves his yard, his garden and flowers, his television, and all things nature. If he lost his ability to enjoy these things, it would have been terrible. I am the designer, and Michael makes things happen. We are a good team. I love to cook and bake, and now Michael is getting into baking too.
He is such a wonderful person who is always ready to help those in need. The loss of his sight would have been life changing for everyone. We are truly so blessed to have such wonderful doctors and donor families. We have learned so much through all of this. It is a miracle. Bless everyone involved. They all have given us a new and beautiful life.