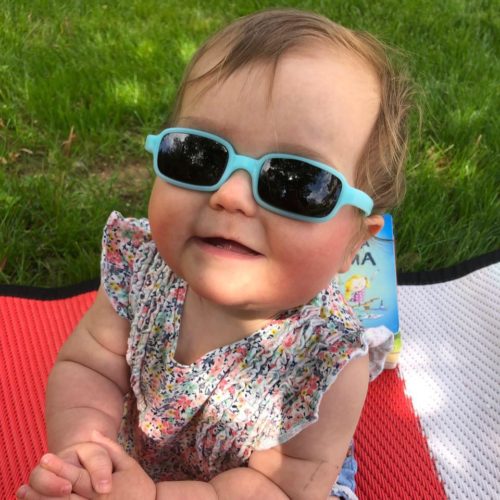 This week we are featuring our youngest friend yet: (almost) 16 month old Mila Stier! Mila was our Cover Girl for our previous forSight newsletter, and her and her parents Megan and Luke have been involved with us ever since! 
Mila has a very rare condition called Peter's Anomaly—so rare that only 3-4 out of every 100,000 babies are born with it. Because this condition is so rare, there are so many unknowns surrounding it. Mila's mom Megan explains that when her daughter was born at Pennsylvania Hospital, the onsite ophthalmologist who came in to check her eyes gave them very little hope. "She told us basically that there was no hope of ever doing a transplant on her left eye because it was too small and had a cataract. And if we did a transplant on her right eye, the most she'd ever be able to see is shadows and light." You can imagine the panic and fear first-time parents would feel hearing that from a doctor. "She basically told us there's no hope, don't even bother."
After countless hours of research and googling, Megan and Luke came across an Eye Bank in Kansas who had featured a little girl with Peters Anomaly on their website. Megan reached out to the Eye Bank asking to be put in contact with this mom. Megan recalls, "Her story sounded so much like my daughter's, but her outcome sounded so much better!" Through this contact the Stiers eventually found Wills Eye, where their daughter's vision was saved. "That's why I really want to share our story," Megan says, "because I feel like it could help people that might not know that Wills Eye is the best place to go around here for kids with PA."
While Megan and Luke were presented with the option to have Mila's right eye transplanted as well, they opted not to, as their doctor was able to remove some scar tissue to improve the vision. "For now we have decided to wait with her right eye. When she's old enough, she'll be able to decide if she wants a transplant," Megan says. This past Monday Mila had to go back to Wills for another procedure—one that she has had done three times already, to remove a mass of lens cells that keeps coming back under her transplant. "Her doctors have never seen anything like this before," Megan explains, "they still can't be sure if all the cells were removed, but it looks hopeful."
Today, 8 surgeries later, Mila is walking, running, and playing like any other 16 month old! October 17, less than two weeks from now, is actually the 1 year anniversary of her transplant! "Her vision surprises us every single day," Megan remarks. "When she was born, we weren't sure if she would even be able to walk or run around. It is so obvious now that she has a good amount of useable vision. She is able to see really tiny pieces of cookie crumbs off of the floor. Just the other day I had a tiny string on my pant leg, and Mila found it and pulled it. It was pretty incredible that she could see something so small!"
Through Lions Eye Bank, Wills Eye, and the internet, Megan and Luke have developed a support group of sorts of other parents of children with Peters Anomaly. "It's really nice to have this support group of moms who can relate to what you're going through."
We are so grateful that Mila and her parents were brought into our life last year. They are an amazing addition to our community, and we love getting to watch Mila continue to grow and explore the world with her newfound vision.