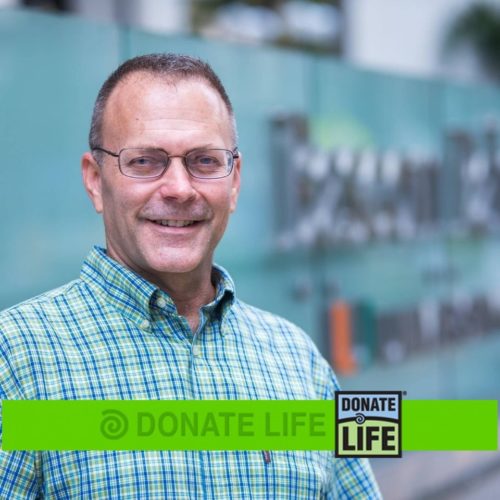 Today's Favorite Friend Friday hails all the way from Fort Lauderdale, Florida. Originally from New Orleans, LA, and awarded Florida Lions Eye Bank's Cornea Recipient of the Year, I am sure you are going to enjoy reading Nolan Bourgeois' story just as much as I enjoyed talking with him.
Florida Lions Eye Bank wrote an excellent feature story on Nolan's journey, from realizing there was something very wrong with his eye in 2014, through his transplant and onward. I am going to focus on what Mr. Bourgeois has done since his transplant, and how he took a situation that would have left others feeling defeated, and turned it into a way to positively impact people around the globe.
Nolan is the founder of the Corneal Transplant Support Group, the first of its kind on Facebook. This group first came about out of necessity. During the time of Nolan's eye infections, and while waiting for a transplant, he scoured the internet hoping to learn as much about what was happening to him as possible. However, "the human side of things was missing on the internet," Nolan explains. He was able to find a lot of information about his infection, and transplants—"all the medical information was out there, but the personal side was missing."  During this time Nolan joined a few medical groups on Facebook, but notes how very few people were talking about transplants. "I needed to find people who could relate to what I was going through. Family and friends tried to help, but they couldn't totally understand," Nolan recalls.
Realizing that the only way to get the support he needed would be to create it on his own, Nolan did just that. Today the Corneal Transplant Support Group has 2,200 members from over 110 countries—the top five being the US, UK, Australia, South Africa, Canada, and India. "Prior to this group, I was barely on Facebook at all," Nolan recounts, "and now it is one of my biggest passions." The creation of this group not only provided Nolan with the human connection and support he needed, but began serving as a safe space and outlet for countless others going through the transplant process. "In this group we understand each other," Nolan explains. "We've all been through this crazy journey, we share a common bond. It's a safe place for people to seek advice, help, and comfort."
"I believe this group understands me even more than my surgeon; she is amazing but has not experienced our journey," one Corneal Transplant Support Group member commented. "I am soooo grateful for Nolan's group," gushed another. "As with anything else, no one truly understands unless they are going through it themselves!" and "This group has been a lifesaver for me!" are just a few of the countless praises being sung by CTSG members.
In addition to serving as a safe space, Nolan's Support Group connects people from all walks of life. "While we are very fortunate in the United States to never have to wait for a cornea for transplantation, others are not so lucky. People in Africa for instance, do not have the luxury of receiving one on demand, there is a waiting list." Nolan's hope is to create a foundation through his new platform to cover the shipping costs of corneas to other countries, and to help finance surgeries here in the US as well for people who could not afford it otherwise.
When asked what the support group means to them and how it has positively impacted their lives one member said: "I wish I knew about this group years back when I felt all alone. Seeing others who have gone through and are going through what I experienced has given me a sense of belonging which is extremely important and makes me hopeful." "I love meeting people (now friends) from all over the world," said another. "I know at any time of the day or night I can find support and understanding." The impact Mr. Bourgeois has had on the cornea transplant community is large and still growing. On average, 300 members a month are joining the Corneal Transplant Support Group, which is really remarkable. Thank you for creating such a safe and supportive space!