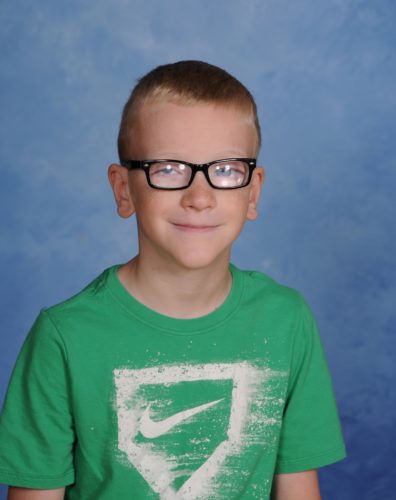 This week for Favorite Friend Friday, we are featuring a special someone who we have known and loved for almost nine years! Eight year old Peyton Barkalow (turning nine a week from today!) is a sweet, compassionate, successful third grade student. When he was born however, his parents were unsure what his life would be like.
"Peyton was one day old when he was diagnosed," Tracey Barkalow recalls. "We immediately received condolences, lots of pamphlets, information on how to obtain money for transportation and eyeglasses—but that's not what we needed. No one could tell us how to make our son's vision as normal as possible."
Peyton was born with a congenital eye condition called Peter's Anomaly. Babies with this rare condition have central cornea cloudiness, for which surgical intervention is usually needed as soon as medically possible. Peyton's condition affected both eyes, and at just 6 months old, he had his first (of 4) cornea transplant surgeries.
Flash-forward to December 2019 and Peyton has useable vision in both eyes, received straight A's on his most recent Report Card, and is about to celebrate his ninth birthday! He is taking Creative Writing, learning Calligraphy, studying History, and doing just about everything a normal 9 year old boy can do!
"We just want to say thank you to Lions Eye Bank for helping us help our son and to the families who donated corneas," Jimmy says. "Because of their generosity, our family and Peyton are vert fortunate. Thank you."
Peyton and his family attend as many LEBDV events as possible, showing their support at Golf, the Phillies Game, and the Recipient Luncheon, just to name a few. He has also had the chance to speak on the topic of donation and share his story at an Eye Bank Association of America event.
Peyton is wise beyond his years, well aware where his Gift of Sight comes from, and thankful for it every single day. Last month his teachers gave the class a writing assignment to discuss the things in their life they are thankful for. Peyton wrote: "I am thankful for my family, my community, and Lions Eye Bank…I'm thankful for Lions Eye Bank because they help me with my eyesight."
And we are so thankful for you Peyton! Happy almost birthday!