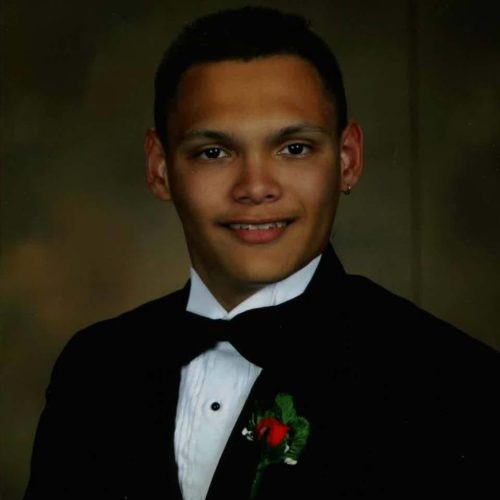 This week for Favorite Friend Friday we have the honor of sharing the story of Rickey Colomy Jr. 3rd. Rickey was a bright light and a beacon of hope for everyone whose path he crossed. We will always remember his life and legacy. Over the years we have grown very close with Rickey's mom, Dawn Ortiz. The story shared below is an excerpt from our interview with her a few years ago. We thought this would be a meaningful and impactful way to begin the New Year. This is Rickey's story:
Remembering Rickey
"If this could help another child to not have to go through what I do than let's do it," Dawn remembers hearing Rickey say. "Where and when" was Rickey's philosophy as he offered his blood, saliva and time participating in research studies at Children's Hospital of Philadelphia (CHOP). "He was always thinking about other people and never expected anything in return," says Dawn.
Richard Scott Colomy Jr. 3rd, who everyone called Rickey, was born with vascular malformation. As part of Rickey's life-long care at CHOP, he had endless doctor's appointments, follow-up visits, surgeries and therapies.
"Something that impressed me about my son was that nobody knew he was sick. If you didn't know his circumstances, you would never know. With as much as Rickey had gone through, intense and invasive surgeries, it can take a toll on someone's body and mind but he always smiled. I think that's what always captivated people. The nurses and surgical coordinators would say that his smile was infectious."
On January 13, 2015 Rickey had surgery number 18. It took longer than expected. When he was finally in recovery, Rickey came out smiling, but seemed concerned. "He told me that something was different, but couldn't explain what it was."
As part of recovery, Rickey was on injections twice a day. He was sore, but that was to be expected. One to never sit around, Rickey began leaving the house again.  He went out to visit his girlfriend and called to check in that night. "I said I love you buddy. He said I love you too Momma", recalls Dawn. "That was the last time I talked to my son."
Rickey suffered from a pulmonary embolism and passed away in the middle of the night.
—
Rickey had a wide range of friends. He never judged people. He accepted everyone. "I didn't realize how many people relied on Rickey," Dawn recalled. "There was a young lady that Rickey was friends with since grade school. Her family didn't have a lot of money and her medication would upset her stomach. She would get nauseous from taking her medication on an empty stomach and so she wouldn't take it. This young girl truly needed her medication. I found out later that Rickey would bring this girl chips and soda every day to homeroom to make sure she would take her medicine. He had a profound impact on that young lady."
Rickey was a beautiful, kind and caring soul. Before Rickey passed away he introduced his mother to his friend's father. "He kept asking me to go out with him, I remember thinking what is wrong with him," recalls Dawn. After attempting to cancel on a coffee date, Rickey pleaded that she go. John made Dawn the happiest she had been in a long time and Rickey loved him. "Rickey introduced me to my husband," says Dawn. "He made sure that I was taken care of before he left."
—
Dawn honored her son's wishes to donate his corneas. "It was his decision that he made solely on his own," says Dawn, "I wasn't surprised he wanted to be a donor. I couldn't be more proud, I couldn't be more pleased. Giving back is Richard." Rickey's eyes saved the sight for two individuals.
"Child loss will truly rip you from everything that you are.  It's been a long journey I but I continue to hear Richard in my ear because after every surgery that Richard would have which was very intense and very invasive,  I would always say to him you don't give up you keep fighting you keep going and that is what I keep hearing in my head. 'Don't give up keep fighting you're not a quitter.' And the days when I feel like I can't get out of bed those are the words that I hear. It's hard, I do struggle, but then I think of Richard and I know I have to get up today."