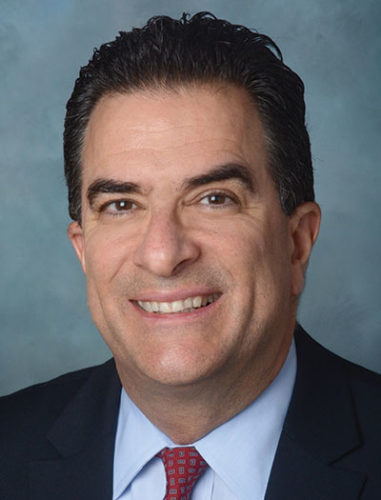 We could not think of a better way to kickoff November's National Eye Donation Month, than by highlighting Lions Eye Bank of Delaware Valley's (LEBDV) Medical Director, Sadeer Hannush, M.D. for this week's Favorite Friend Friday.
 
Dr. Hannush is Attending Surgeon on the Cornea Service at Wills Eye Hospital and Professor of Ophthalmology at Sidney Kimmel Medical College of Thomas Jefferson University. He earned his Doctor of Medicine Degree from Wayne State University in Detroit, Michigan, and completed his Ophthalmology Residency at George Washington University in Washington, D.C. He then went on to fellowship training in Corneal and Refractive Surgery at Emory University, in Atlanta, Georgia. Dr. Hannush is a member of the Medical Advisory Board of the Eye Bank Association of America (EBAA). He first joined LEBDV in 1988 as a corneal surgeon following completion of his Emory fellowship.
 
As Medical Director, Dr. Hannush performs a fundamental role in approving and implementing medical policies and procedures, training our certified eye bank technicians, and overseeing quality metrics of prepared tissue. Above and beyond his Medical Director duties, he was instrumental in the implementation of LEBDV's Gratis Tissue Program which has now benefited hundreds of your community members to receive the gift of sight. Once the local need is served, his efforts have continued to support local surgeons with mission trips by providing the gift of sight to underprivileged areas in desperate need. Not only is Dr. Hannush an admired and appreciated leader for our organization, but he is also a loved and adored ophthalmologist to his patients.
 
Dr. Hannush most recently took a trip to Paris, France in September where he delivered the European Cornea Society Medal Lecture at the Paris Expo Porte de Versailles. The lecture drew on Dr. Hannush's three-decade post-training experience in the areas of cornea and external disease, maintaining a private practice while being actively involved in academic medicine as Attending Surgeon at Wills Eye Hospital and Professor of Ophthalmology at Thomas Jefferson University in Philadelphia. In this lecture, Dr. Hannush emphasized the importance of participating in clinical research. "In the course of a 4-decade career an ophthalmologist may touch the lives of about 40,000 patients. If, however, we change the way medicine is practiced, we can touch the lives of millions", he observed.
 
Besides his trip to Paris, Dr. Hannush has lectured across the globe about full and partial thickness corneal transplantation, artificial cornea surgery, complex cataract procedures, and laser vision correction. He has traveled to: Canada, Mexico, Brazil, Colombia, the UK, France, Denmark, the Netherlands, Austria, Spain, Italy, Egypt, South Africa, Kenya, Lebanon, the United Arab Emirates, Singapore, South Korea and Australia, just to name a few!  He has also performed and taught corneal transplantation in Italy, Spain, Egypt, and Kenya, where he started a transplant program at Tenwek Mission Hospital. This was made possible by generous donations of corneal tissue on many occasions by LEBDV, which serves patients in need of the gift of sight around the world. This Thanksgiving Dr. Hannush returns to Tenwek Hospital in Kenya to continue his mission work with the support of LEBDV.
 
Most recently, the American Academy of Ophthalmology awarded Dr. Hannush the prestigious Life Achievement Award in education. The Achievement Award program recognizes individuals for their contributions to the Academy, its scientific and educational programs and to ophthalmology, and Dr. Hannush could not be any more deserving!
Thank you so much for all you do for the Eye Bank and cornea recipients Dr. Hannush. We don't know what we'd do without you!