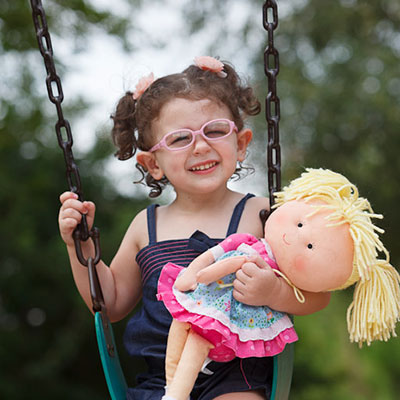 Gift Sets Girl with Rare Condition on an Easier Path
Jana was born with an extremely rare eye condition. At birth, her left eye resembled a blue marble, but as days and weeks went by, the eye began to grow in size. By the time she was 8 DRweeks old, it had become so large that she could not close her lid, and skin began to form over the eye.
After an examination, Jana's doctor recommended that the skin growth be removed from Jana's eye. During surgery, however, it was discovered that in addition to the skin growth, Jana had no cornea. Her doctor proceeded with a cornea transplant that was made possible by a donation to Lions Eye Bank of Delaware Valley.
Jana's family is forever grateful to their donor family. In a letter to the donor family, Jana's mother Eileen wrote, "We want to thank you for giving our daughter a new cornea that has enabled her to lead a normal life. Please know that our thoughts and prayers are with you and your family. We thank you from the bottom of our hearts for the generous gift you gave to our newborn daughter."