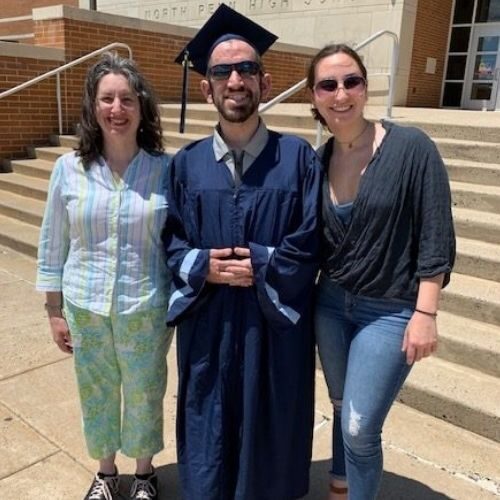 Holly Wright is the current administrative coordinator and has been working for LEBDV since October of 2017. Holly has many responsibilities at LEBDV such as keeping the database updated with all constituents, sending out acknowledgement letters of financial donations, assisting in the execution of the tremendous events at Lion's Eye Bank, and so much more. Holly has a love for both performance and studio arts and was a teacher in the religious and private pre-school sector prior to working at LEBDV.
Holly first applied to LEBDV because its mission resonated with her after her son, Nathan (pictured in the graduation cap and gown), had a cornea transplant in August of 2017. Nathan's transplant tissue was from Lion's Eye Bank, so she was connected to the organization even before she started working there. Nathan, as well as the rest of her family, volunteer to help the eye bank whenever possible.
Holly believes the most rewarding aspect of her job is seeing the gratitude letters on the wall at the office of LEBDV. She admires the communication and connection between the families of the donors and the transplant recipients through hand-written letters; the letters allow the donor families to know their loved one is appreciated and remembered. Having written a letter on behalf of her son to his donor's family, she understands the value of the gratitude letters.
Although Holly finds all aspects of LEBDV's mission important, the most meaningful aspect to her is that Lion's Eye Bank provides quality tissue for all recipients despite the financial status of the recipient. It was important to her that her son would receive tissue that worked for him, and she can attest that LEBDV always provides quality tissue regardless of an individual's ability to pay. Holly's favorite moments have been at the past Cornea Transplant Recipient Luncheons because the event brings together cornea recipients, donor families, volunteers and staff, and is an amazing opportunity to share stories and experiences.
Holly sincerely hopes that the future of non-profit eye banking continues to succeed and be relevant in all communities.
Thank you for all you do for LEBDV, Holly!