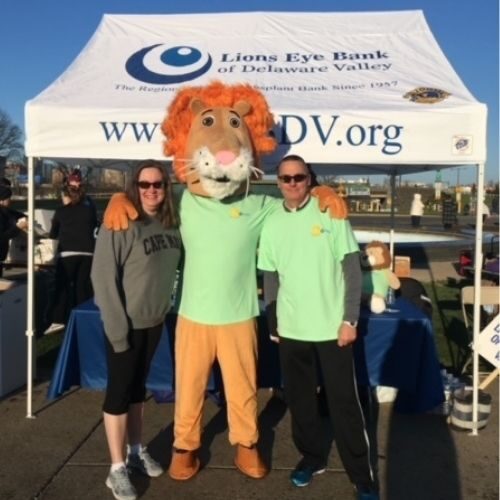 For Favorite Friend Friday this week we have an incredible Lion, Board Member, and volunteer to brag about, Lion Mark Green. Now is the perfect time to feature Mark, as he has been invaluable in our fundraising efforts to make this year's Gift of Sight Charity Golf Classic the best one yet!
To our initial surprise, this year's golf tournament, taking place on Tuesday, October 27th, is turning out to be our most successful one yet! Much of this is thanks to the tireless work of Mark and his efforts to bring in golfers and sponsorships. To date, Mark has brought us twenty golfers and eighteen sponsors, and he's not done yet!
Mark joined the Lions Club in 2005 and was introduced to Lions Eye Bank of Delaware Valley in 2010 when he joined the Board of Trustees. Being a Lion is about giving back to your community; prior to dedicating so much time to LEBDV, Mark was a volunteer fire fighter and oversaw their fundraising events. He was introduced to the Lions Club through a police officer he worked closely with during his time at the firehouse.
When asked about why he dedicates so much of his time to giving back, Mark says, "I enjoy helping people. As a past chairman and member of multiple committees, I get an inside look at all the incredible work done on a daily basis at the eye bank." Mark has a niece who is legally blind and explains how she motivates him to help restore the gift of sight.
Besides Golf, one of Mark's favorite events is the Annual Corneal Transplant Recipient Luncheon. "Seeing the faces of young kids and adults whose vision has been restored, there's nothing like it. Meeting recipients and donor families firsthand makes our mission and work more real."
When Mark is not working for PECO or volunteering for the eye bank, he is spending time with his wife, Nancy, his children Stephanie and Jeremy, and his two grandkids, Alivia and Evan.
If you see Mark next Tuesday at our Gift of Sight Charity Golf Classic, be sure to thank him for his incredible efforts in fundraising for the gift of sight. Thank you for all that you do for LEBDV Mark!