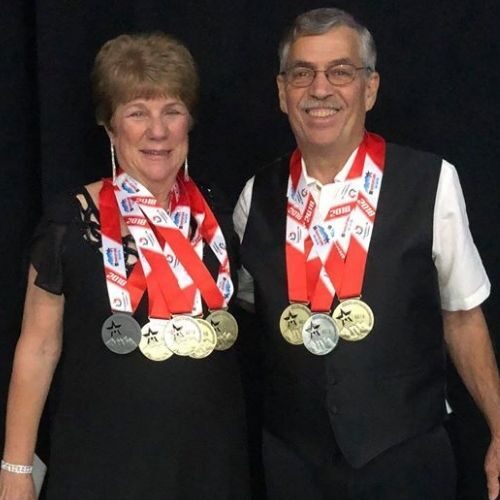 Long Time Eye Bank Volunteer Gets New Lease on Life
We are so honored to introduce Vicki Piccotti, an active part of LEBDV and a cornea transplant recipient, as this week's Favorite Friend Friday! Vicki is a caring and compassionate individual which is exemplified through her dedication to her two children and life-long career as a registered nurse. Vicki worked for 45 years in various medical environments such as a senior care facility, a family practice and as a nurse at the school her children attended. Vicki is a talented skier and previously taught ski lessons at Shawnee Mountain. Currently, she is a part of Big Boulder Mountain's ski patrol.
Vicki struggled with a virus infection in her left eye for many years and received consistent treatment for it. In 2011, she found out her cornea was so thin it could rupture, and had her first transplant scheduled within weeks. With no recovery issues, the first surgery went smoothly and her vision improved to 20/20 post surgery. A year later, Vicki had cataract surgery. In 2017, the infection came back, and Vicki had a partial transplant done; the second transplant proved to be a more difficult recovery, which led to Vicki's third transplant in 2018. Although it was another challenging recovery process, serum tears—eye drops made from one's own plasma—helped heal her eye after the third transplant.
Vicki is a strong and resilient woman who has embraced the challenges of her long transplant journey. There were many difficulties within her second and third transplant, but she did not let that affect her spirit. After her second transplant, Vicki went straight to Switzerland to ski the alps, despite having her eyelid glued shut for healing! Although she still struggles with her depth perception and driving in the dark, Vicki's vision is mostly back to normal.
Vicki learned about Lion's Eye Bank through her incredible eye surgeon, Dr. Hannush. After visiting the office for a tour, she was able to find information about her donor and saw the process come full circle. Vicki is so inspired by the incredible work accomplished at Lion's Eye Bank and was especially impressed by the touching story of LEBDV providing cornea tissue to Simeon Edwards in Jamaica.
Vicki and her family try to support Lion's Eye Bank whenever possible. She went to Salt Lake City in 2018 for the Transplant Games of America; the best part of Vicki's experience was meeting people from around the world and across the country while spreading the positive effects that are the result of organ donation and transplantation. During the games, Vicki and her husband won six gol medals and two silver medals for ballroom dancing!
Understanding the importance of saying "yes" to organ donations, Vicki wants the community to know that although it is devastating when a loved one passes away, that person will live on by giving someone else the gift of sight or even life. Vicki is extremely grateful to her donor and her donor family for saying "yes" to donation during such a difficult time. Being a life-long health care worker, Vicki is certainly pro-donation and encourages everyone to speak up about eye, tissue and organ donation.