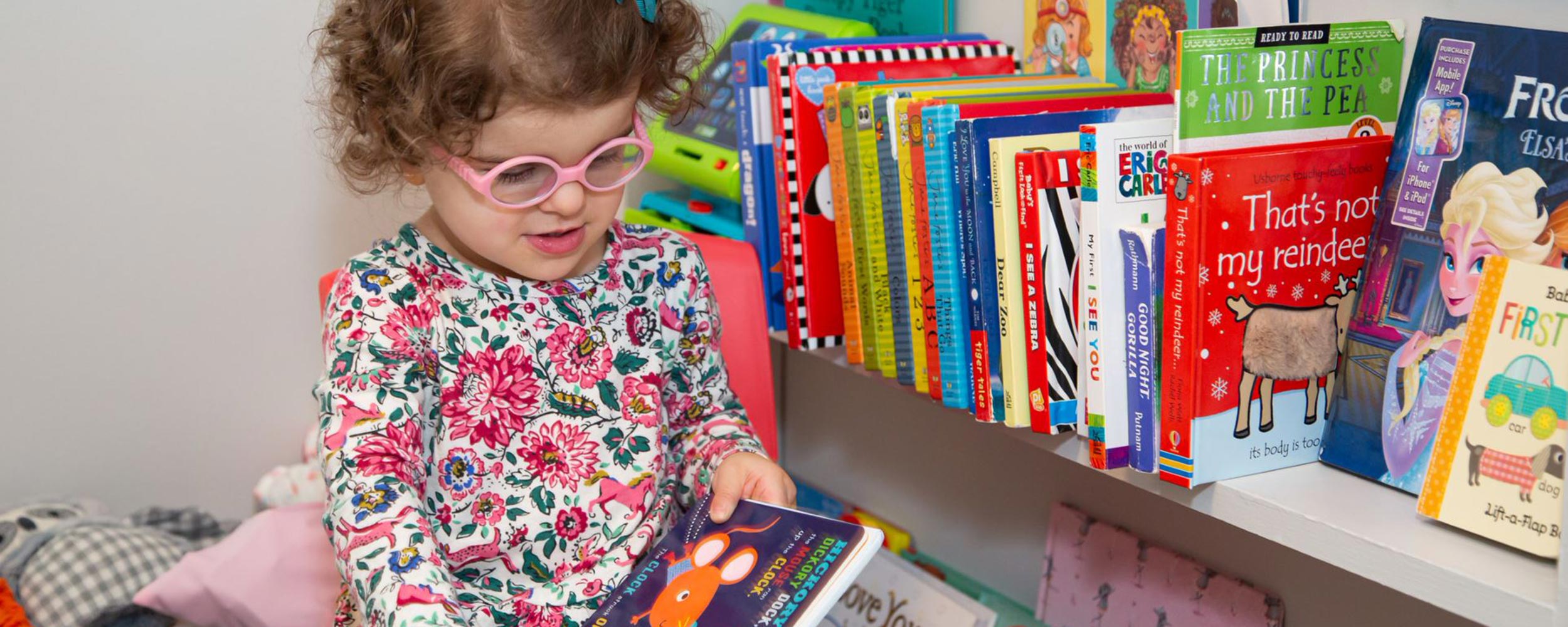 "Words will never adequately express the amount of gratitude we have for her donors, her doctors and AltruVision for all they've done," says Elliana's mother, Stephanie.
Elliana's Story
Four-year-old Elliana is a sweet, curious girl who loves dancing and listening to music (particularly The Beatles), playing hide and seek, and exploring with flashlights. She is growing up in Rochester, NY, with her parents Stephanie and Dominic and little sister Gabriella.
Born two months early, Elliana spent 32 days in the neonatal intensive care unit. During this time, doctors noticed that her eyes appeared clouded, and were unsure if she would ever be able to see. At just 3 days old, Elliana was diagnosed with a rare eye disease called Peters anomaly. "We had never heard about Peters anomaly before," Stephanie said. The new parents were left feeling devastated and with more questions than answers.
The first few months were a whirlwind. "We started researching everything we could," Stephanie recalled. "Dom spent hours reading scholarly articles, searching social media and reaching out to doctors across the country to gather opinions. We wanted to be as knowledgeable as possible if we were going to be making decisions for our daughter."
Thanks to the power of social media, Dom and Stephanie were able to connect with a support group of parents of children with Peters anomaly. From that group, they learned of many different procedures, outcomes and specialists.
One family in particular reached out to Dom regarding their experience, and through that referral he connected with Alex Levin, MD, Chief of the Wills Eye Pediatric Ophthalmology and Ocular Genetics Service.
In August of 2017, the family traveled more than six hours from Rochester, NY, to Philadelphia, PA, to meet with Dr. Levin and Christopher Rapuano, MD, Chief of the Wills Eye Cornea Service. "Our doctors were amazing," said Stephanie. "They answered all of our questions and were open and honest with us about the benefits and risks associated with bilateral cornea transplants. However, we left that day still feeling very overwhelmed and worried for Elliana's future." Peters anomaly is rare and each case is unique, but both doctors felt the best chance for vision was cornea transplants. Ultimately, Dom and Stephanie agreed. "Eye and vision issues at an early age can lead to delays in childhood development," explained Dr. Rapuano. "It is imperative to correct problems early on to ensure babies develop the visual abilities they need to learn and grow."
On December 13, 2017, just shy of 7 months old, Elliana had a cornea transplant on her left eye, and on April 4, 2018, Elliana underwent cornea transplant surgery for her right eye. Thankfully, both of Elliana's transplants were successful. She has had many visits to Wills Eye Hospital and subsequent surgeries since. Although her vision continues to change, her parents feel validated every day by their decision. "She can look at her parents and call us 'Mom' and 'Dad,'" gushed Stephanie. "When she was born, we didn't think that would be possible."
"We wish we could go back in time and tell ourselves that it's all going to be okay," Stephanie said of the progress they've made. "It's so comforting knowing we made the right decision. Elliana can pick up a book and tell you which one it is. She can identify her colors, shapes and some letters. She can even pick up a family picture and tell you who's in it!"
The family has since made countless trips back and forth to Philadelphia, and even though it's logistically very challenging, they are reminded daily of the incredible gift Elliana has been given. Stephanie and Dom are beyond grateful for their talented Wills Eye specialists, Lions Eye Bank of Delaware Valley (LEBDV) and especially Elliana's two cornea donors, whose selfless gift allowed her to see the world for the very first time. "The gravity of what had to happen for our daughter to be able to see is not lost on us," Stephanie said. "We say a prayer with Elliana every night and thank her donors. Without them and their families, none of this would be possible—through the tragedy of a life lost, a little girl can now see. Elliana has the gift of sight, and words will never adequately express the amount of gratitude we have for her donors, her doctors and LEBDV for all they've done."
Since 1957, AltruVision has helped coordinate nearly 50,000 transplant surgeries.  
We encourage cornea transplant recipients to become advocates for the life-changing impact of cornea transplantation. Sharing your story helps increase awareness about eye, organ, and tissue donation. You know best the profound impact of this very special gift. Please contact us to learn more. 
There is no substitute for human tissue. The transplantation process depends upon the gift of cornea donation from one human to another, and 97% of all cornea transplant operations successfully provide recipients with the Gift of Sight. 
AltruVision provides area residents with the highest-quality and safest cornea tissue available. More than 1,000 people in The Delaware Valley have their sight restored each year, and many more benefit from the medical research and education made possible by donated eye tissue.