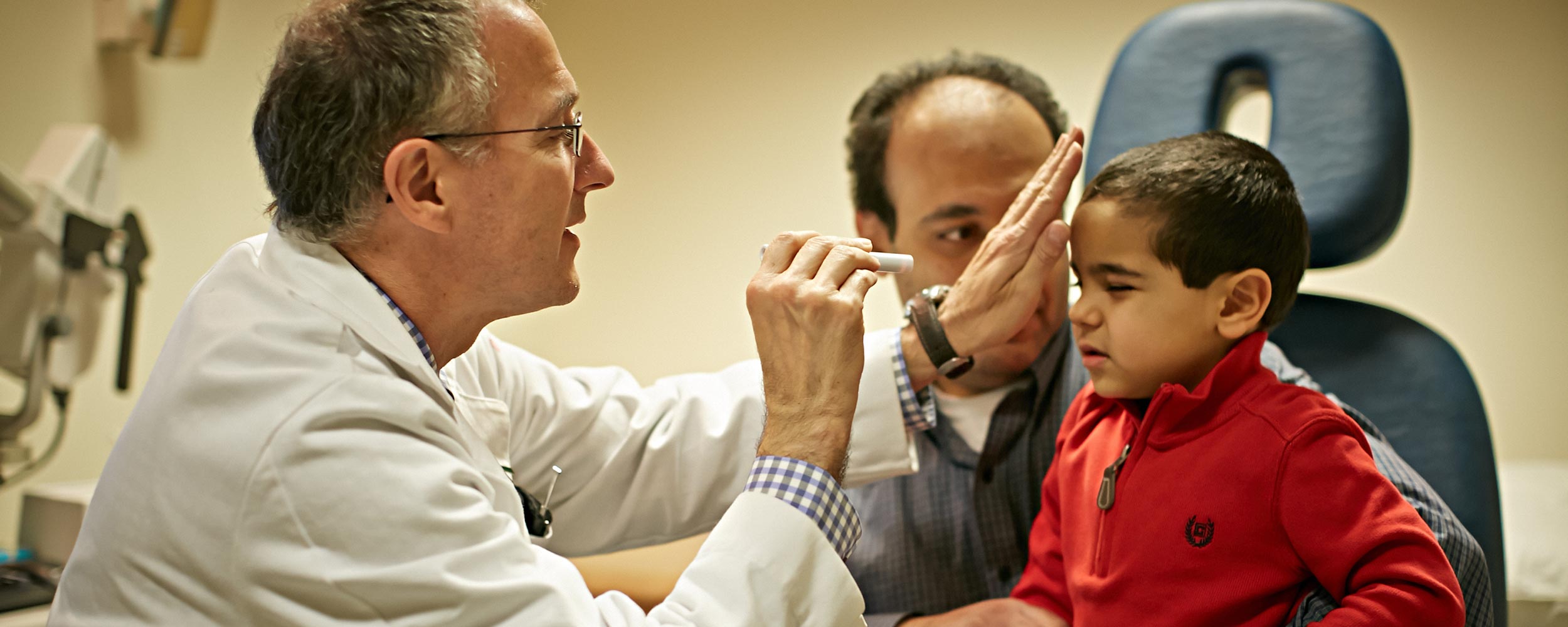 "Today Mina is walking, coloring, and laughing like other four-year-olds. Even after a few delayed developments, he has been able to catch up to his peers and is thriving today."
Mina's Story
Mina was born blind and required a cornea transplant in each eye in order to see. Mina received his first cornea transplant at just four months old, followed by another one at six months.
We had the pleasure of catching up with Mina's dad, Hany, and learning what that not-so-little boy is up to now. Mina is now 11 years old and starting his first year of Middle School with his peers!
Mina underwent an additional cornea transplant surgery on his right eye in 2014. Two years ago he received Lasik surgery on his left eye, and the procedure was repeated again this past June. Although the pressure levels in his left eye are closely monitored, Mina's doctors, Dr. Levin and Dr. Rapuano are very pleased with the state of his corneas.
In addition to reading and writing like the rest of us, Mina is also fluent in braille. When he is not in school, Mina enjoys spending time with his family, playing video games, and swimming.
We cannot wait to see all the wonderful things Mina and his family continue to do!
Request tissue
If you have an emergency tissue request or tissue-related question, please call 215-587-9755. For emergency requests, please complete the Tissue Request Form, print and fax it to AltruVision at 215-563-6603.
Processing services
AltruVision's certified technicians prepare tissue to deliver precise and consistent results that are tailored to each surgeon's specifications:
Penetrating Keratoplasty (PKP)
Decemet's Stripping Automated Endothelial Keratoplasty (DSAEK)
Decemet's Membrane Endothelial Keratoplasty (DMEK)
Pre-loaded DMEK
Deep Anterior Lamellar Keratoplasty (DALK)
Keratoprosthesis (K-PRO)
Licenses and certifications
AltruVision holds itself to the highest quality standards. We are proud to participate in reviews by the Eye Bank Association of America (EBAA), the nationally recognized accrediting body for eye banks, and the Food & Drug Administration (FDA). Please contact us with any questions.
REQUESTING OCULAR TISSUE
Please request a new account or access your existing account, for our Surgeon Portal below.
New users:
Send us a request, so we can set you up with a new account.