Lions Eye Bank of Delaware Valley (LEBDV) celebrated 65 years of sight-saving service at The National Constitution Center on Saturday, November 5, 2022. LEBDV recognized key breakthroughs from the elimination of waiting lists to highly specialized, layer-specific transplants.
Restoring sight and preventing blindness for 65 years, LEBDV has given back hope and restored vision to nearly 50,000 community members through cornea transplantation. Through the healing power of donation, 97% of all cornea transplant operations successfully restore the recipient's vision. LEBDV serves as both a leader in the field of eye banking and as a responsible and compassionate steward for the gift of cornea donation to over 1,000 individuals from Delaware, Pennsylvania, and New Jersey annually.
The 65th Anniversary Gala united community partners who devote their time, talents, and heart to advance LEBDV's mission. LEBDV honored four women whose contributions profoundly impact the world of vision and donation.
Julia A. Haller, MD, Ophthalmologist-in-Chief of Wills Eye Hospital
Brooke Halper, Esq., Cornea Transplant Recipient and Eye Donation Advocate
Melanie Penna, Donor Mother and Eye Donation Advocate
Jan L. Weinstock, Esq., Chief Administrative Officer and General Counsel of Gift of Life Donor Program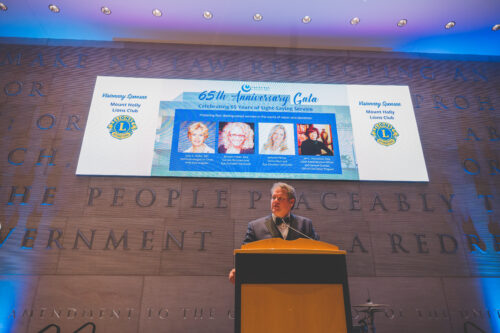 Cornea transplantation is the most common and successful transplant surgery and gives people the chance to live independent lives with restored vision. "LEBDV is not only a valued partner for Wills Eye Hospital but an absolutely critical component of our sight-saving work in this region and around the world. Congratulations to this outstanding organization on its 65th anniversary," said Dr. Julia A. Haller, Wills Eye Hospital Ophthalmologist-in-Chief. "I'm honored to be included with this year's remarkable cohort of honorees. These awardees are a testament to the teamwork, dedication, and selflessness it takes to preserve and protect sight. Cheers and heartfelt congratulations to everyone being recognized."
There is no substitute for human tissue. The transplantation process depends upon the gift of cornea donation from one human to another. "Time and again, we see families help others through donation once they understand they have that ability and are given the opportunity. Gift of Life Donor Program is proud to be a long-standing partner with LEBDV in providing a pathway for this incredible generosity," said Jan L. Weinstock, Esq., Gift of Life Donor Program Chief Administrative Officer and General Counsel. "Congratulations to Lions Eye on a remarkable 65 years of transforming lives through the gift of sight. It is a special honor to be included among the gala's inspiring awardees and I look forward to our continued work together to champion donation and transplantation."
Simeon Edwards traveled from Jamaica to speak to thank LEBDV for providing him with corneal tissue in 2019. Simeon lived in darkness and pain for 10 years without access to appropriate medical care. LEBDV's Gratis Tissue Program provided Simeon with the tissue he desperately needed. Since his life-changing transplant, Simeon married his beautiful wife and became a father. These were two things he didn't think would be possible before his transplant.
Entertainment Reporter, Sheila Watko from NBC10 was the perfect fit to emcee the gala! Jennifer Li, MD, Professor, Department of Opthalmology for UC Davis Health, Director, Cornea and External Disease Service, and Chair of the Eye Bank Association of America, captivated every guest in attendance during her moving keynote speech. Entertainment included living kidney donor, Kathy DeAngelo, with You Gotta Have Harp and Philadelphia's finest seven-piece brass band, SNACKTIME.