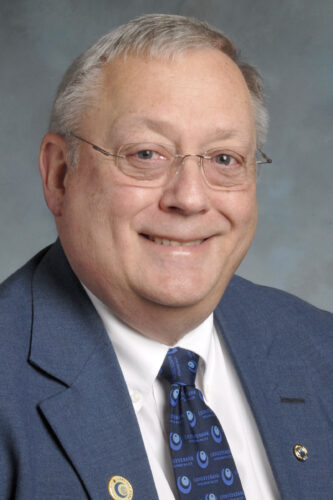 PID Melvyn K. Bray of 16-L Toms River Lions Club was elected as Chairman of the Board of Trustees of Lions Eye Bank of Delaware Valley (LEBDV) during its 65th Annual Business Meeting held on June 11, 2022. PID Bray has served as a Trustee for 20 years and in committees including Endowment, Annual Audit Review, Budget & Finance, and Investment.
PID Bray has always had a passion for helping others, a quality he attributes to his parents and upbringing. "They were always involved with some kind of function and helped other people, while still bringing up seven kids." 
Mel spent most of his career in the medical field. While serving in St. Albany, NY during the Vietnam War, he saw patients suffering from ear, eye, nose and throat complications. His expertise in this field of medicine brought Mel to several eye banking organizations after his service.
Mel's mother also suffered from macular degeneration, a condition that causes vision loss. As a result, Mel developed a deeper passion for vision related issues. Due to Mel's upbringing and proximity to the medical field, volunteering for LEBDV brings him purpose and joy.
After 49 years of affiliation with LEBDV, PID Bray officially holds the position of Chairman of the Board of Trustees on July 1, 2022. PDG Earl Groendyke, who has served as Chairman for the past two years wishes PID Bray the best of luck. "We're in good hands with him," PDG Groendyke says.
As new technologies emerge and talent brings innovative expectations and skills, PID Bray plans to keep an eye on the values that founded LEBDV. He will also focus on LEBDV's life-long mission to ensure safe and quality tissue for those we are privileged to serve.
PID Bray acknowledges his wife, Ginny, who also serves as a Lion, as a huge support system and the reason he can do this good work. 
PID Bray's favorite experience with LEBDV has been tailgating at Citizens Bank Park for Gift of Sight Awareness Day with cornea transplant recipients, donor families, volunteers, and eye bank staff. "Watching children who were born blind get a second chance at life through the Gift of Sight is so rewarding. Getting to see them grow up before our eyes and thrive is incredible.